Hey guys what's up? I hope you are having a great time. I am Mizan from my blog MizPress , welcoming you to my next article here. This one is related to Search Engine Optimization in short SEO. I am going to reveal with you guys some websites and tools that I use to do SEO for all my websites and also for my clients. I hope you are going to enjoy this one. Using these websites and tools you can easily get any websites SEO related datas and information to use in your own projects. It is also going to help you to understand SEO quite easily. Okay, here we go –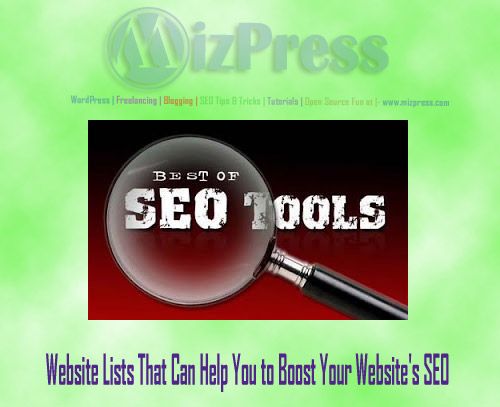 Websites for SEO

Most Important Some Ways For Your Site….
Check Your Site SEO Position…..
Check site Details…..
Website Optimization Report…..
http://www.websiteoptimization.com/services/analyze/
Submit Your site in 20 search Engine and Increase your traffic …..
Find out your Errors of your web page……
Check Page rank….
http://www.prchecker.info/check_page_rank.php
Check Alexa Rank……
Site Malware Check…..
Domain Checker…..
Tools
Internet Marketing Ninjas
http://www.internetmarketingninjas.com/tools/
Website Rank SEO toolbar (Search in Google to find out the chrome or Firefox or for your browser extension)