I guess you already know, wireframing is the key to efficient UX development for mobile and web applications.
Wireframing tools help in making a SaaS app or website quite easier. They also allow you to strip the product down. Plus they focus on user interactivity. Mockups and wireframes are critical tools for a prototype's functionality to clients as they provide an uncluttered visual to various designs.
There are more than thousands wireframing tools on the market. This software can be utilized for wireframes and also full prototypes.
These following wireframing tools and 29 mockups are listed which represent the coolest and handy tools.
Development workloads and tests are moving to Cloud these days. You can consider the greatest benefits of Cloud for test and development.
ProfitBricks customers get a lot of benefit from the performance in infrastructure. It also offers 2x the performance.  Check out the 14-day trial or live demo today!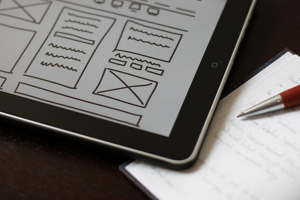 1. Moqups
You can create mockups, interactive prototypes and wireframes which look great on screen. We are grateful to Scalable Vector Graphics (SVG) technology for it.
Features:
60+ SVG stencils
PNG (pixels) and PDF (vectors) can be exported easily
Google Drive and Dropbox accounts can be connected
Share projects without a trouble using Dropbox and Google Drive or email
A great icon library
Safe and secured SSL communication
Cost:
You can use Moqups free for 2 projects.
At $9/month, you will get all the premium features.
WireframeSketcher

Use this tools in order to create mockups, wireframes and prototypes for any platform like web, mobile applications and desktop. This is a plug-in and desktop app for any Eclipse IDE.
Features:
Library of UI controls
Handy Prototypes
Extensive wiki formatting
Vector icons
Reusable bits with various components
Open, XML-based format
Storyboard use-cases
Full-screen presentation mode
Cost:
Single-User License = $99
Multi-User License = Commences at $89 per license
MockFlow
MockFlow is a wireframe software to design user interface mockups for websites and software. Editor functions, a gigantic library of mockup components and icons are available here. MockFlow is a dependable tool for any designer.
Features:
Work online or offline
Sophisticated interface
Presentation mode available
Multiple master-page capabilities
Built-in version check-in, check-out and history
Library of mockup components
Access to MockStore
Real-time design collaboration
Team chat
Built-in annotations
Cost:
Plus Edition – $69 per year
Premium Edition – $99 per year
Team-Pack – $166 per year
Lumzy

Lumzy is a mockup and prototyping tool for designers and developers. You may use it to create a rough sketch of the final website or application. You can also make a working simulation of the final product.
Features:
Drag-and-drop functionality
Wide-ranging component library
Trouble-free sharing capabilities
Cost:
Mockup Builder
Mockup Builder is a prototyping solution that assists in designing software or websites.
Features:
Create prototypes for smart phones
Breadboard models are used for desktop programs
Cost:
Free Plan – 1 user and 1 project with 5 screens
Solo Plan – Commences from $ 7
Premium Light Plan – Starts at $27 per month
Team Pro – Starts at $99 per month
Appery.io

Appery.io is a cloud-based development environment with mobile platform. It also provides with catalog of API plug-ins and back-end services.
Features:
Drag and drop UI builder (JavaScript, CSS, HTML5 libraries like PhoneGap, jQuery Mobile etc)
Can be connected to any API
API Plug-ins such as ESPN, AT&T, Salesforce.com and Aetna CarePass
Android and iOS Binary build
Cost:
Starter – 1 project = Free
Standard -3 projects = $45 a month
Pro -15 projects = $45 a month
Premium -40 projects = $180 a month
Frame Box
Frame Box is an easy frame-sharing application. The tool is browser-based. You can create adjustable wireframes.
Features:
Drag-and-drop layout
Sketch-view modes
Built-in components
Automatic sharing
Read-only capability
Cost:
A software engineer named Mathis has made a lot of tools for UI design, like iPhonemockup.
Key Features:
Pencil mockup option
Drag-and-drop interface, pretty simple
Some great style components
Cost:
fluidIA                                                                                                                                                                                    FluidIA is a web-based design tool for prototyping. It allows refinement of concepts using object-oriented approaches.
Features:
Rapid prototyping and representations
Multiple file abilities
Seamless collaboration
Extremely interactive prototypes
Customization of tools
Cost:
PencilProject
Pencil is a very cool open-source GUI prototyping tool. It allows developers creating mockups in the most awesome desktop platforms. The tool is very easy to download.
Features:
GUI prototyping
Built-in components
Diagram support
Easy exporting
Inter-linking
Cost:
CogTool
CogTool is a UI prototyping tool. You are allowed to create storyboards of many designs, widgets and sketches. CogTool's human performance model is liked by all.
Features:
Modify your current interface
Compare other's interfaces
Prediction of new designs
Cost:
This is a system compatible with the early stages of design. It has been updated recently to include PC and tablet support. Portable and downloadable.
Features:
sketching input
dissimilar refinement levels
zooming
Cost:
Naview

Naview is a rapid prototyping tool by Volkside Pty Ltd Design. The tool offers multiple visualizations, taxonomy importing via spreadsheet, and simple drop-down menus.
Features:
An interactive interface
Test with users locally and remotely
Diagramed survey analysis
Cost:
Free-2 navigations
Gold- 30 navigations – $119 a month
Silver – 20 navigations – $ 89 a month
Bronze – 5 navigations – $39 a month
iPlotz
Produce navigable wireframes and mockups with iPlotz. Invite others to make comment about the designs. You can also assign people to tasks here.
Features:
Portable
Drag and drop components
Imbed links
Multiple export alternatives
Seamless collaboration
Built-in task management
Create diagrams and flowcharts in a simple manner. Turn complicated information into comprehensive images. It can be used in your browser directly.
Features:
collaborate with members
In-built templates
technical drawings, diagrams and flowcharts
Cost:
Free 30-day trial
Subscription starts at $4.95 a month per user
Creately
Creately is a strong diagramming application which also provides with real-time alliance. You can create Network Diagrams, flowcharts, wireframes, UML diagrams and mind maps.
Features:
collaboration
intuitive interface
Smart diagrams
built-in component library
Cost:
Free
Annual pricing: 1 User-$49, 5 Users-$120, 10 Users- $200 and 25 Users-$350
Cacoo

Variety of diagrams can be created with ease with the help of Cacoo. Flowcharts, Site maps, wire frames, mind maps, network diagrams and UML diagrams are easy to make using Cacoo's mockup platform.
Features:
diagramming tools
collaboration
layers and backgrounds
basic-drawing capabilities
Unlimited storage
Cost:
Free
Team Plan

Basic – 10 users = $24.50 per month
Premium –30 users = $49 per month
Max –100 users = $99 per month
Plus (single user) = $4.95 per month or $49 for 1 year
This is an iPhone app tool for making mockups in minutes. You can generate high-fidelity mockups with authentic iPhone performance.
Features:
Instantaneous play mode
sync and upload screens
non-linear flows with touch points
switch between play and edit modes
Cost:
Lite Version – Free
Full Version – $6.99
FlairBuilder

Get inventive wireframes for mobile applications and websites with FlairBuilder. This tool provides seamless feedback tools.
Features:
Low and high-fidelity
quick prototypes in minutes
Multiple iterations
Cost:
1 User – $99 a year
5 Users – $89 a user ($445 total a year)
10 Users – $84 a user ($840 total a year)
15 Users – $ 79 a user ($1, 185 a year)
20 Users – $74 a user ($1,480 a year)
25 Users – $74 a user ($1,850 a year)
Serena Prototype Composer
Simulate any application's usability just by using the composer. This comporser makes collaborating a lot easier.
Features:
high-fidelity prototypes
clear-cut interface
Navigation models
Work in a straight line with no trouble
Cost:
Community Edition – Free – 1 general project and 1 user-defined project
Professional Edition – $299 a year
Balsamig
Edit UI wireframes from Google Drive. Move from design to development faster.
Features:
Use "Create New" menu to make new mockups
click to edit
Sketch-based wireframes
Cost:
7-day Free Trial
Monthly Plan – $5 a month
Yearly Plan – $50 a year
Mockingbird

Mockingbird is a wireframing tool which allows you to share mockups of your site quickly. Mockingbird is one of the first web-based wireframing tools, recognized as "easiest and friendliest one".
Features:
Real-time collaboration
Drag and drop linking
Exportable to PDF or PNG
grids and columns
layout aids, snap-to-grid, automatic resizing
Built with Cappuccino
Cost:
Personal – 2 active projects – $9 a month
Team – 10 active projects – $20 a month
Pro – 25 active projects – $40 a month
Unlimted – Unlimited active projects – $85 a month
HotGloo
Make your web projects live with HotGloo. You can work with members or send previews for feedback and operate changes.
Features:
real-time collaboration
50+ UI elements
In-built UI master library
Exportable to PDF or PNG formats
Cost:
15 -day Free Trial
Group – 2 Projects / 10 Collaborators = $14 a month
Team – 5 Projects / Unlimited Collaborators = $28 a month
Agency – 20 Projects / Unlimited Collaborators = $54 a month
InVision

InVision can make quick prototyping for various designs. InVision offers seamless communication.
Features:
UX sketches, wireframes and designs
Project presentation as a demo
Track activities and design progress
Cost:
Free – 1 active project
Starter – 2 active projects =$15 a month
Professional – 5 active projects = $25 a month
Studio – 15 active projects = $50 a month
Studio Plus – 30 active projects = $100 a month
This is a full tool kit for beneficiary design elements and patterns. Project Kick Off, Business Model Canvas, Personas, Project Canvas and others are integrated here.
Features:
library of UI elements
Optimized workbench
control and iterations
collaborative design
online and offline sharing
Intuitive commenting
a single interface
Cloud- based app
Cost:
30-day free trial
Starter – 2 Projects / 1 User = $12 a month
Freelancer – 10 Projects / 2 Users =$29 a month
Team Effort – 30 Projects / 10 Users = $49 a month
Company-Wide – 100 Projects / 50 Users = $89 a month
Proto.io

Proto.io lets designers make mobile app screens, transitions and events. This tool streamlines the whole process.
Features:
Interactive designs with gestures and animations
Compatible
UI components
Testable prototypes
Shared prototypes
exportable to HTML
Cost:
Basic – 1 active project = Free
Plus – Up to 3 active projects =$24 a month
Pro – Up to 10 active projects = $ 49 a month
This is a service for quick prototyping, wireframing and experience. Information architects, business analysts, User experience designers, project managers and designers find inPreso Screens quite useful.
Features:
low and high-fidelity wireframes
interactivity
interface mockups
Cost:
Free Trial –There isn't a time limit. Simple theme. No sharing allowed.
$29 for 1-year subscription
Build site wireframes in minutes. Wireframes are shared with collaborators. An assortment of tools and features makes this tool practical.
Features:
Drag and layer elements
New version number
Easy access and edit
Cost:
You can create high-fidelity wireframes with Justinmind. You can make an HTML or dynamic website for well optimized functionality.
Features:
HTML wireframe
Widget libraries
An ideal simulation
Change of simulation state
Filte, data,  and search
Real-time data
Cost:
Annual -$19 an user/month
Month-to-Month -$29 an user/month
Designers need tools that make tasks effortless. If there's a tool like this you love, let us know about it.