UPDATE: oDesk is now Upwork!
I hope all of you who came to read my article already heard of oDesk a lot. But  what it is and why this site is used I think you probably don't know. Even if you know you don't have proper guideline to start working here though you are full of interest to do so. I am going to write this post only for you guys. Please read it very carefully. If you learn something from it I will be very glad.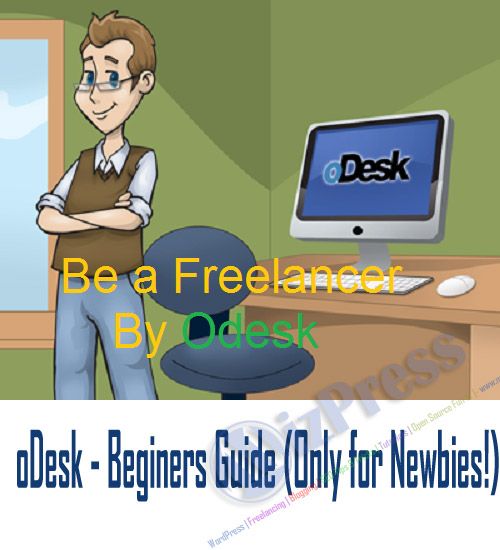 What is oDesk?
oDesk is actually a marketplace to work. It works as a media between employer and contractor. oDesk never gives work directly to the contractor.  I have seen people asking me that, If they join oDesk whether oDesk will give them works or not? And are they going to get works immediately after the joining. Is it that much easy to get the job(s)?To be honest, oDesk never gives work directly, they are always are given by the real human like us whom we call employer or buyer.  The people who work on those jobs are called contractor.We get an wage after we finish each projects from the buyer.
But we have to keep in mind that to grab a job we must have the quality. For example if you are an article writer, then you should stick to the article writing job. If you try to get some administritive support job then it won't be a great idea. And in most cases you will fail to be a perfect freelancer in oDesk.
Now there might be a question what is oDesk's benefit? They will provide us work from the buyer for a charge of 10%. It means they will cut 10% of the earning we get. And oDesk uses this money to maintain and run the website. In short, it is their income!I hope you now have an idea about oDesk.
How am I going to get works?
I have already told you! your qualification and expertise will be the key to get job on oDesk.  Only registering in Odesk which is 100% free is not the success point to get job. Even you won't get work immediately after the bidding. It's not that much easy You need to complete your profile and wait for the luck to favor you also. But 100% completed profile is the first step towards the success.
How do I make my profile 100% complete?
I heard this question from most of the new freelancers on oDesk. To be honest if you really read what oDesk is instructing you to do, you will easily complete your profile 100%. In general cases, you have to accomplish the following in order to get your profile 100% completed:
You have to add your profile picture. The formal/professional  the better!
You have to fill up previous work histories.
You must have to provide your proper address.
Add your skills which you are expert of!
You have to pass the oDesk readiness test
You have to also give at least one more skill test on the topics that you are expert of .
You have to verify your identity.
Add portfolio. You have to add some previous work sample in this section.
At this moment I believe these are the steps to get a profile 100% complete. You have anything else, please let me know so that I can include.
What is Portfolio? How can I add one?
Portfolio means previous work samples. Anything can be added to the portfolio that proves your skills on the expertise list you have chosen on oDesk. It can be your personal blog, a logo design or an work for your client. A portfolio going to help you to win the job than having no portfolio.
How to Bid on the first Project?
Before you put your bid on any project first double check whether your profile is 100% completed or not. If it is, then start bidding! How will you bid? Write a cover letter of your own. Language that is easy for you can be a good cover letter. Don't copy paste any cover letter. In most cases, it will only higher you chance to get frustrated.Make your cover letter prcise, a big letter is a time waster to the client as they don't have time to read an essay.If necessary, provide your previous work links.  If your previous work makes your client convinced you might get the job. One more thing, as you are a new comer, bid on small projects and do the work with a low rate. You are a new comer so always don't bid like a pro! There are a huge no. of frauds are there too. I mean bad employer. How to recognise them? Look at there job posting. If they post a lot of job but never hires anyone then there is a chance that they will ask you to work free for a sample work and you will be pissed off! They will make you work and are not going to reward you. So beware of them! Then check if the clients payment method is verified or not! If it is and they have good job award ratio, just do the work! You will be earning money in no time! You will get all this information on the right hand side of each job.
I have tried to cover everything you need to start your career on Odesk. I hope you liked it. If it helped you I am successful. Feel free to ask me any questions or thought by commenting below.